A team of researchers, some from Alberta, has discovered one of the oldest shrimp fossils on the planet.
The shrimp fossil is over 90 million years old. It has the form of a question mark.
Researchers at the University of Alberta, Yale University, the Smithsonian Institute for Tropical Research and the University of Alaska have analyzed dozens of fossils of the small creature. The results of their research were recently published in the journal Proceedings of the Royal Society B.
Their discovery makes it possible to fill a major gap in the evolution of this family of marine animals that we find today in abundance on the planet.
The fossilized shrimp, called Eobodotria muisca , comes from Mesozoic rocks of South America.
"The similarity between Eobodotria muisca and today's species is impressive," says Javier Luque, the lead author of the study.
The latter completed his research while attached to the Department of Biological Sciences at the University of Alberta and is now a postdoctoral fellow at Yale.
"There are eight families, or main groups, of live common shrimp and so far we have no idea how they have evolved," adds Javier Luque.
More than 500 fossils measuring 6 to 8 millimeters very well preserved were found with characteristics rarely present in fossil crustaceans. The researchers were able to analyze the mouths, intestines, antennae, tiny hairs and small eyes of the shrimp, and create a 3D reconstruction of what they might have looked like in their lifetime. All this made it possible to obtain new information on the development of evolving lines.
"These fossils are hundreds of adult males, who probably died suddenly in a rising water, swarming during mating," says Sarah Gerken, co-author of the study and a professor at the University of Alaska in Anchorage. "This kept them in a really beautiful state."
The rarity of these fossils is partly due to the location where they were found, a shallow inland sea in what is today the Andean Cordillera.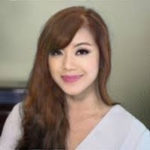 Jennifer MacBride a graduate of Imperial College Business School. Jennifer is based in London but travels much of the year. Jennifer has written for BBC, Motherboard, Apple Insider, and the Huffington Post UK. Jennifer is a Tech reporter, focusing on technology, national security and social media.